The 3 Most Popular Hot Air Brushes on The Market
1. H-300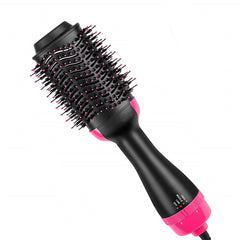 This kind of hair dryer brush is the best-selling, most accepted and recognized by everyone style on the market in the past three years. Its prototype is Revlon Hair Dryer Brush.
It started in 2017, and it has become hot in 2018. It is already super hot in 2019. More and more businesses are beginning to imitate similar wind combs and make the prices lower and lower. Some low-priced ones are of poor quality, although The appearance looks exactly the same. By 2020, more styles and colors of hair dryer brushes have appeared on the market.
The disadvantage is that it is too common. If the product sells high quality, the appearance have been overly imitated, not easily recognized by consumers. Many merchants sell the same appearance at a low price, and the price does not have much profit margins.
2. H-400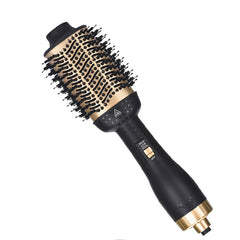 This is the first hair dryer brush to try to use other colors, the innovative black-gold design made it quickly popular. Many sellers began to sell it on Amazon, making it the most competitive dryer brush on Amazon.
Except for the color change, it has other unique designs. For example, move the switch from the bottom to the middle, adding a variety of patterns to make it look more beautiful. Better materials make you very comfortable to hold.
Its disadvantages are also obvious, its price is very high, and it loses its negative ion function.
3. H-208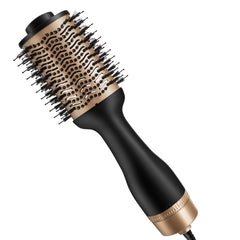 As one of our private molds, H-208 is the upgraded version of the present brush on the market, after a detailed market investigation, we carefully collected all the pain points of the customer feedback about the present market brushes. After dedicated discussion with our technicians and production team, we want to solve the existing problems of the products and improve the end customers' user experience.
Nearly all the present volumizer on the market is only 1000W, we increased to 1200W by using an upgraded motor, make the wind more powerful, very friendly for thick hair. At the same time, we solved the heating problem of the handle and head, and improved the power-off protection system to make it safer.
At present this model is the best seller of our company, it solved most of the problems of the present market products. Improved quality means much better user experience and feedback as well as very good profits and fewer competitors.